Holiday for the third millenium?
This is a luxury villa rental for your holiday or business meeting. This is a history, romance, relaxation, total privacy, family and children, friends, combination of mountains and sea, virgin nature, crystal clear sea, sunshine, ancient towns and villages with narrow streets, traditional trattorias, taverns and wine cellars, music, dance, wide range of sports, calm mountain valleys among the vineyards, olive and almond-trees, peaceful breakfast on your terrace at the sunrise, self-barbecued fish and sea-food at the sunset...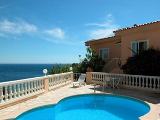 …as well as recent comfort, modern facilities, buyings on local markets with fresh fruit, vegetables, spices, fish, cheese and souvenirs, fashion goods in fine boutiques, simply a real relaxation for everyone!
This is a holiday in your own or rented fully comfortable villa in romantic Mallorca, colourful Provence, scenic Tuscany, sunny Cyprus, islands of Greece and Croatia or exotic islands of Carribean, Thailand or Mauritius.
This is a real holiday for the third millenium...